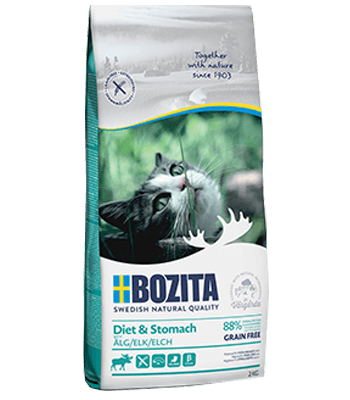 BOZITA DIET & STOMACH – GRAIN FREE ELK
10% FAT, 34% PROTEIN
Grain free
Wheat free
Elk
Complete food for adult cats. Made without grain. Serve dry together with a bowl of fresh water.
Grain-free
Lower energy content for the less active cat or cats with sensitive digestion
FOS and MOS are prebiotic fibres that promote good, functional gut bacteria.
Natural beta-glucans from yeast with health-promoting properties
Cellulose fibres reduce the risk of hair balls.
Balanced mineral content adapted for the sterilised cat.
Balanced levels of fatty acids omega-3 and -6.
L-carnitine transports fatty acids to cells and is an important part of a cat's metabolism.
Bozita Diet & Stomach Grain-free Elk is a complete food for adult cats. The low energy level and only 10% fat content make the food ideal for less active or overweight cats. Freshly cooked elk is extra tasty and very easy to digest, which makes the food optimal even for picky cats. With the low fat content, elk as a unique source of protein and enriched with natural prebiotics in the form of FOS and MOS, this food is particularly suitable for cats with sensitive digestion. L-carnitine transports fatty acids to cells and is an important part of a cat's metabolism. This cat food contains natural beta-glucans from yeast with health-enhancing properties. It also has an optimal vitamin and mineral balance (Ca, P, Mg), and naturally high levels of taurine.
Net weight: 400 grams, 2kg, 10kg