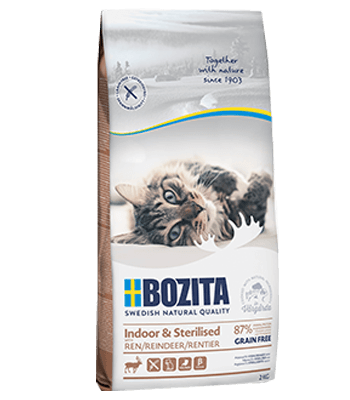 BOZITA INDOOR & STERILISED – GRAIN FREE REINDEER
14% FAT, 33% PROTEIN
Grain free
Wheat free
Reindeer
Complete food for adult cats. Made without grain. Serve dry together with a bowl of fresh water.
Grain-free
Cellulose fibres reduce the risk of hair balls.
FOS and MOS are prebiotic fibres that promote good, functional gut bacteria.
Natural beta-glucans from yeast with health-enhancing properties
Balanced mineral contents specially adapted for sterilised cats.
L-carnitine transports fatty acids to cells and is an important part of a cat's metabolism.
Bozita Indoor & Sterilised Grain-free Reindeer is a complete, balanced food for adult cats. This food is adapted for the lower energy needs of indoor cats and sterilised cats. For this reason, it also works very well for older or overweight cats. Fresh reindeer helps increase the food's tastiness and digestibility, allowing for an easier takeup of nutrients. In order to promote good gut bacteria, this product contains the prebiotic fibres FOS and MOS. This cat food contains naturally health-enhancing beta-glucans from yeast. It also has an optimal mineral balance (C, P, Mg) and contains high amounts of vitamins and taurin.
Net weight:400 grams, 2 kg, 10 kg