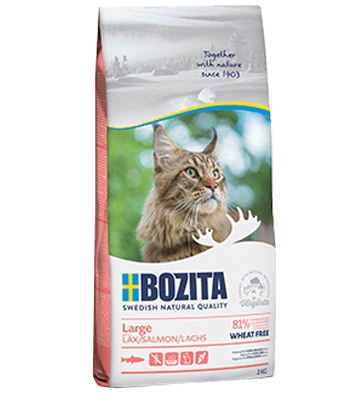 BOZITA LARGE – WHEAT FREE SALMON
18% FAT, 31% PROTEIN
Complete food for adult cats. Made without wheat. Serve dry together with a bowl of fresh water.
Wheat-free
Salmon adds healthy fatty acids to this cat food. These acids, together with biotin and zinc, helps to support healthy skin and shiny fur.
Cellulose fibres reduce the risk of hair balls.
Glucosamine and chondroitin sulfate are natural ingredients helping cats maintain healthy joints.
Natural beta-glucans from yeast with health-enhancing properties
Balanced mineral contents specially adapted for sterilised cats.
FOS and MOS are prebiotic fibres that promote healthy, functional gut bacteria.
Bozita Large Wheat-free Salmon is a complete food for adult cats. The consistency of the food is especially well-suited to larger breeds of cats or cats that eat too fast or long-haired cats. Freshly cooked salmon helps increase the food's tastiness and digestibility, allowing for an easier uptake of nutrients. Salmon adds healthy fatty acids to this cat food. These acids, together with biotin and zinc, help support healthy skin and shiny fur. For long-haired cats, we have added insoluble fibres, which reduce the risk of hair balls. This cat food contains naturally health-enhancing beta-glucans from yeast, as well as chondroitin sulfate and glucosamine, natural ingredients for healthy joints ideal for larger cats. This cat food has an optimal mineral balance (Ca, P, Mg) and is naturally high in vitamins and taurine.
Net weight: 400 grams, 2 kg, 10 kg