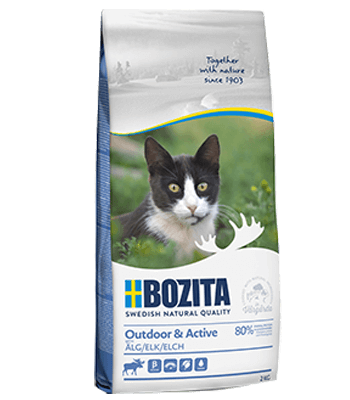 BOZITA OUTDOOR & ACTIVE – ELK
20% FAT, 30% PROTEIN
Complete food for adult cats. Serve dry together with a bowl of fresh water.
High energy for active cats
Natural beta-glucans from yeast with health-enhancing properties
Rosehip is rich in natural antioxidants well-suited to active cats.
Balanced levels of fatty acids omega-3 and -6
Bozita Outdoor & Active Elk is a complete food for adult cats. A relatively high energy food is especially well-suited to active outdoor cats that need extra nourishment. The addition of elk gives this food great taste, allowing it to be enjoyed by even the fussiest of cats. Outdoor cats are more exposed than indoor cats, so this food contains rosehip, which suits outdoor cats due to its high levels of natural antioxidants as well as health-enhancing beta-glucans from yeast. This cat food has an optimal balance of vitamins and minerals (Ca, P, Mg) and a naturally high amount of taurine.
Net weight: 400 grams, 2 kg, 10 kg